Magic and Puppets Environmental Themed Shows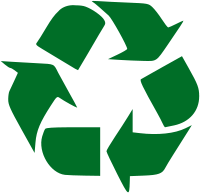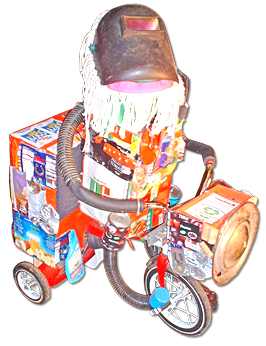 Environmental Puppetry Shows
Three Little Pigs – The traditional story is revisited with the pigs building their houses out of three different recycled materials.
Reusable Whiteboard – Temporary notes can be made on a whiteboard which magically comes to life
Recycled Robot – A powerful educational tool. The environmental message is important. Unfortunately, audiences may not always be as attentive and receptive as you would like. The recycled robot will help make presentations memorable and entertaining, and keep the audience riveted to the topic.
The life-sized recycled robot is a remote-controlled, battery-powered unit that rides a tricycle. The recycled robot talks & hears via a wireless microphone system and has automatic mouth movement in sync with the sound. The head can also be turned by remote-control.
This mobile recycled robot is extremely effective in situations where you want to 'stop traffic'. The recycled robot makes a lasting impression on exhibition stands, parades, school programs, carnivals, etc.. This highly mobile recycled robot can get anyone's attention by driving up to them (or chasing them down) and starting an interactive conversation.
Commendations
"The children in Year 4 enjoyed the show. They learnt about recycling, reusing and reducing in an enjoyable way. Everyone had a fantastic time." Mrs Buttovie
"The magic show was a fun way of exploring the issue of recycling. The magician was very good with the children and spoke to their level of understanding. Overall a good show with important messages throughout." Year 1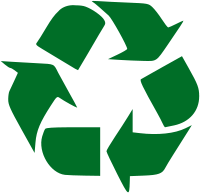 Reduce Reuse Recycle Show
Inspirational program containing meaningful messages dramatizing the importance of recycling, energy conservation and the value of good environmental habits.
Children learn about recycling and energy conservation while being entertained by puppetry and magic. Along with the...
Glove Puppets

Colourful Magic

Good Clean Fun

Live Rabbit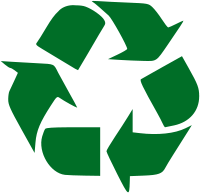 Environmental Show
This show is an inspirational show built around the importances of:
Recycling

Energy conservation

Environmental saving habits
Along with the puppets, creative magic, colourful illusions and even a live rabbit. Children will discover about the environment and what is happening to it. Then how to help save the planet and their futures. After-show worksheets can also be provided for continued classroom discussion and projects.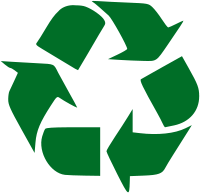 Environmental Enlightenment Show
Children's environmental enterprises and reclaiming
Most youngsters find ecological acumen an absorbing subject, especially when introduced through our Environmental Show although should one rely on present day hype, that teaching at this time requires turning into part and parcel of young people's existence. Being direct and a piece of cake to coach, the green gospel is:
Reduce what is bought and used

Reuse if possible anything again and again

Recycle used materials into new products
As a consequence of educating the idea of reclamation in schools pupils thereupon frequently evolve into the prime movers of recycling in the family abode.
The Education Entertainment Environmental Show is a professional integration of interactive puppetry, visual magic and environmental education. Using his dexterity and comicality, David gets children of all ages excited about taking care of the earth. Using audience participation, David enlightens his audiences about the fundamentals. From the three R's, (Reduce, Reuse, Recycle) conservation of our limited natural resources, researching renewable energies, to the simple things everyone can do at home...The Education Entertainment Environmental Show covers it all.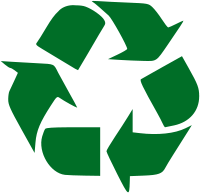 Environmental Magic "Three R's Show"
The 3 R's are explained individually and then utilized as magic words.
Ketchup Bottle Disappears – Glass isn't going to vanish. Talk about where to take glass to recycle it. Recycling also reduces the amount of energy used to produce new glass bottles.
Vanishing Coke Can - Aluminium doesn't just disappear it ends up in landfills or litter if we don't recycle. If we recycle it can be used over again-perhaps in a different form.
Three Rope Mystery - Three different sized ropes are used to illustrate different types of plastic containers. (kids participate by mentioning-water bottle, shampoo bottle etc. The ability to identify different types of plastic is pointed out by the large recycling symbol on the front of the table. It's mentioned that they can try this at home and look at different containers and you will see a small number inside of the recycling symbol. The ropes are then transformed into three the same size. At this point the ropes are displayed and its mentioned that their plastic containers might have been recycled into a park bench, boat docks, perhaps even the jacket they could be wearing.
Torn and Restored Newspaper - A newspaper is show empty and then ripped up We discuss that if we don't recycle we should tear this newspaper up, but if we recycle it all the pages could be read again! In this routine students become aware of how the cycle of the environment is connected, by recycling newspapers fewer trees are consumed that help the environment in many ways.